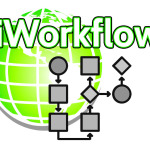 iWorkflow
Digitize and Optimize Your Business Processes
The inbox and outbox on your desk: true signs of a paper-based, inefficient business process.  In comes iWorkflow (IBM Workflow Software), and the ability to take any business process, and create a digital copy.  Want to have an approvals inbox for all your invoices?  No problem.  Need to have contracts flow through your organization for a review process?  It's a snap.
Benefits of iWorkflow:
Immediately create efficiency and improve productivity with digital business process
Automate your IBM iSeries Workflow and Process
Workflow creates a standardized process that is repeatable and set
Changing or altering a process becomes a simple point and click operation
Managers now have a looking glass into any process, and readily accessible reporting and metrics
Eliminate the pain of paper and manual process
Automatically start any business process based on an action or trigger
Features of iWorkflow BPM:
Automatic Task Assignment – With iWorkflow, tasks are auto-assigned whenever a business process is initiated.
Data Integration – With our business rule designer, you can create digital business rules, and leverage your existing information in your business apps for a smooth flow.
Automatic Triggering – Start a business process based on data, or a specific action.
Digital Forms – Want to eliminate paper, and use forms to start a business process or workflow? Our iForms product will give you the power to eliminate paper forms, and integrate information collection directly into your process.
Integration with IBM iSeries and Open Platform Systems– no matter your computing platform, we provide powerful integration.
This is just a quick overview of some key features.  For more information or a demo on how we can automate IBM and beyond,  Contact us today.
Looking for an advanced Business Process Management and Workflow tool?  Inform Decisions offers K2 Workflow and BPM as well for systems outside the IBM world.  See more here: K2 Workflow, Forms, Data and Reports: Business Process Apps.