Document Automation on the IBM i – Closing the circle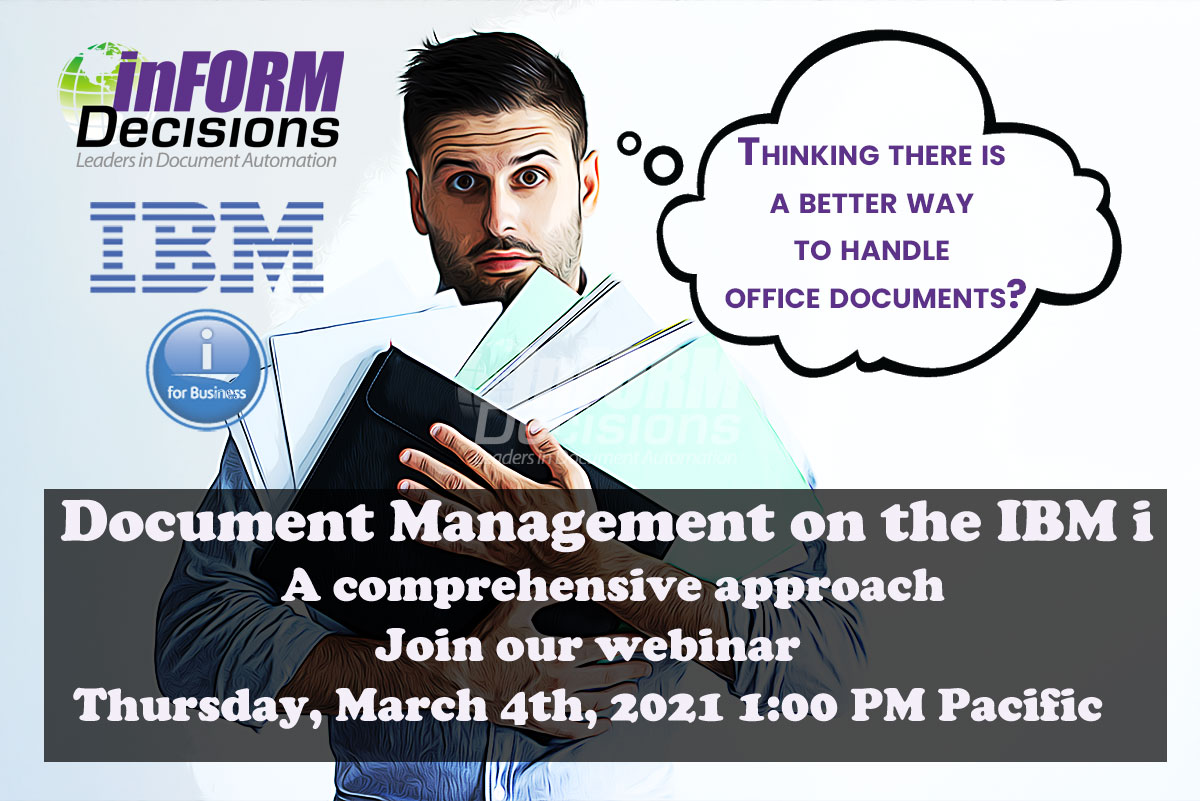 As many readers already know, the IBM i OS is recognized worldwide as one of the most powerful, secure and stable operating systems to manage business information today. A characteristic quality that sets the IBM i OS apart from other operating systems it's unique architecture. From its conception to present day, one of the prime goals of the operating system has been to create a platform that would allow a business to leverage the systems computing power while insulating everyday users from the burden of the complexities of the technology. In other words, "let the machine do the work, and let people run the business" – a goal attempted by other platforms at greater expense with many short comings.
To further support and strengthen the operating systems goals, IBM has adopted the philosophy that the only software a typical customer really wants to deal with is the software that runs its business directly — applications that are developed by the customer or that they buy from Independent Software Vendors (ISVs) such as inFORM Decisions. It's one of the reasons, the operating system comes integrated with all of the necessary "middleware" a business application might need.
Keeping with the prime directive of the IBM i operating system, inFORM Decisions has been a Document Management provider specializing in state of the art Document Automation solutions for the operating system since 1994. We've focus on this important aspect of business communication to help organizations across many industries focus on their own unique businesses as inFORM Decisions' software handles the automation of Document Management. As an experienced document automation solution provider for the platform, we are continuously enhancing the solutions we provide to adapt to new business demands. In other words, "we do the complex work behind the scenes so end users don't have to".
Simply stated, Document Management is an automated way of capturing, organizing, digitizing, storing, tagging, approving, and completing tasks generated by large amounts of paper flowing into your business. Document automation users report cost reductions of up to 75% after just one year.
Over the years, the complexities of managing the handling of documents has grown from printing simple one sided documents to robust documents that incorporate unique identifiers that have special dynamic distribution qualities. The current business environment demands go beyond printing typical documents like bill of ladings or invoices; in today's environment documents are filled with useful triggers, context, and content. Our goal is turning your data into useful information that can be used to run your business more efficiently. Spool files, physical documents, digital files, incoming faxes or other formats—extract the important information to convert them to searchable PDFs, and route it all to a digital repository.
Our paperless Report Conversion software will copy spool files to PDF or TIF easily, dynamically naming, emailing, faxing and archiving without programming or additional hardware.
Native conversion leverages the power of your IBM investment and eliminates need to download to a PC or secondary server – delivering more security and faster processing of documents and reports.
inFORM Decisions has the Document Automation tools to eliminate clutter and improve productivity.
• System i and Power Systems NATIVE PCL to PDF converter for Spool Files. iPDF converts standard HP Laserjet output (Printer Control Language) into the popular Adobe PDF (Portable Document Format). IBM native conversion eliminates the need to download to a PC (or secondary server) to process PDF files, thus improving security and speed of PDF document conversion. Much more than a simple conversion tool, iPDF enables report distribution, PDF document archival and retrieval, bursting, sorting and outputting PDF reports and custom business forms in the open PDF standard where they can be easily viewed using the free Acrobat Reader.
• iDocs is the central processing engine for all of inFORM's document automation products on the iSeries, and provides queue monitoring, spool file management and much, much more.
• iForms and iChecks provides a powerful solution that has minimal impact on your IBM i environment, allowing forms and secure check printing solutions to be deployed. These solutions can provide full color output with digital images and are capable of producing the industries' most popular bar code symbologies including QR, 3of9, EAN, Datamatrix and more. These forms can be emailed, faxed or digitally deposited automatically without human intervention.
• Smart Router is the iDocs module used to facilitate complex filtering and distribution requirements for IBM i spooled reports, forms and business documents. It controls the bursting and processing of spool files by individual page based on conditional user-defined criteria, and intelligently sorts, re-bundles and delivers spool content to individual targets. Smart Router output feeds directly into other iDocs modules for distribution via email, fax and/or printer, or for indexing and storage in a Web-based archive for easy browser-based retrieval, 24×7.
• With iSign, documents can be signed with a mobile device, avoiding the need for a paper print process. Documents can now be easily retrieved or routed through a web browser, from any location at any time.
• Want to archive your documents and make them available for search and retrieval via a web interface? iView provides an easy to use interface, with powerful integration capabilities.
• Looking to automate your document scanning process? iCapture provides powerful document automation and OCR features in an affordable package.
For information that goes beyond the one dimensional perspective of printing documents on the IBM i platform, you are invited to join a Webinar entitled "Document Management on the IBM i: Full Circle with your Documents". It's being presented on Thursday, March 4th, 2021 1:00 PM Pacific / 4:00 PM Eastern. The registration link can be found below:
Call (800) 858-5544 / (949) 709-5838 or visit us at www.informdecisions.com for more information about our acclaimed iDocs suite of IBM i products.