K2 Workflow – Blackpearl & Appit
Looking for information on K2 workflow/blackpearl/Appit?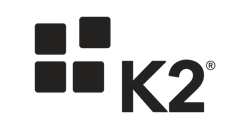 inForm Decisions is a K2 partner, and can help with all your workflow and BPM needs.  K2 has one of the most powerful workflow engines on the market, but the product goes way beyond just workflow.  It is a Business Process Management Suite (BPM) comprised of workflow, forms, reports and a powerful data integration layer.  With on-premise support and cloud-based BPM, it fits in any size business, regardless of budget or tech infrastructure.   Read more about  K2 blackpearl workflow below:
---
K2 Features
No code BPM and BPA platform
Forms, Workflow, Reports and Data Layers
Patented smartobject Data Integration
Drag and drop designers for workflow and forms
Workflow rules and business logic
---
K2 Benefits
Create efficiency and improve productivity
Enable citizen developers to build apps
Standardized and make repeatable processes
Integration with Oracle, Salesforce, SQL, SharePoint and more
Paperless accelerator
Eliminate manual process
---
K2 Use Cases
HR Onboarding
AP Routing and Workflow
Paper Forms Replacements
Purchase Order Process
Document Approvals
Document Routing
And much, much more
inForm Decisions is a K2 partner, and can provide additional information, K2 pricing and a tailored demo to show you the value of this software suite.  Contact us today.