AP Automation
AP Automation
Accounts Payable Processing is one of the most paper consuming and labor-intensive processes in any office setting, which is why AP Automation offers enormous potential for cost savings within an organization.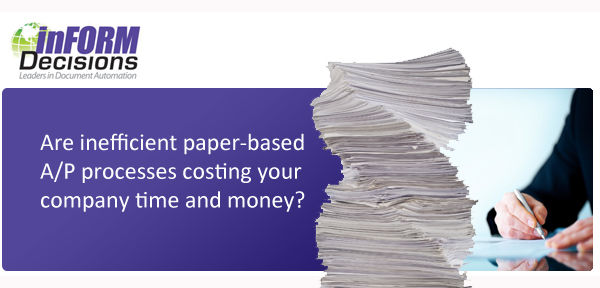 With AP automation, on average, companies can save over 70% on the cost of invoice processing alone. Saving time and money is just the start of the benefits of A/P automation.
Increase Visibility – Instant, secure access to invoice images and status notifications eliminate waiting periods and provide availability from anywhere.
Reduce Fraud – Internal controls are simplified and centralized, and additional layers of security access controls are put in place for strengthened security
Improve Efficiency – Improvements of quality measures with automation reduce the high error rates known to plague paper-based processing
Save Money – With invoice scanning and AP workflow solutions, faster processing means avoiding late payment fees and taking advantage of early pay discounts.
At Inform Decisions, we provide end-to-end solutions for any accounting automation project, including document capture, business process management software and applications for all your printing needs.  Contact us today for more information and a demo.
>> Keyword: AP automation