inFORM Decisions Wins in the Gaming Industry with Document Automation and Management Solutions
Monday, 24 September 2012
With document automation, what used to be a mountain of paper and a headache-provoking job for numerous people becomes a streamlined process.
Written by inFORM Decisions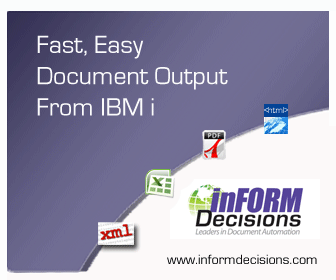 It's no accident that inFORM Decisions has over 30 hotel casino companies in the United States utilizing one or more of its document automation products. With inFORM's iDocs suite, these companies effectively reduce costs, streamline document and report workflow, and receive ROI. In the highly competitive casino and hospitality marketplace, these benefits are essential.
"If you think about it, a single hotel and casino property can typically have hundreds or more locations where documents need to be distributed—printed, emailed, faxed, or archived and retrieved", says Dan Forster, president of inFORM Decisions. "For a modern gaming property to keep up in this new millennium, a flexible and affordable electronic document automation solution must be in place."
iDocs from inFORM Decisions is an iSeries-native, ERP application-neutral electronic forms management suite of products that works at the spool or database file level. No application interfaces, APIs, secondary PC, or black box–based devices are needed to professionally format, transform, and distribute documents. iDocs products run seamlessly with all IBM i (iSeries, System i, and Power Systems) software applications.
Continues Forster, "Our gaming and hospitality clients begin to achieve ROI very quickly after installation. Once companies see how our products work, paper-based or older legacy forms solutions give way to a more state-of-the-art, yet native IBM i document processing solution."
Further increasing ROI for document applications is the use of inFORM's SmartRouting module. The term, coined by inFORM Decisions, basically means the ability to intelligently distribute documents and reports, on a page-by-page basis, based on conditions that a user can define for data residing within a spool file. Many casinos find unexpected benefits when they apply SmartRouting.
Says an applications manager at a major gaming company: "With iDocs, our casino was able to apply conditional business rules to ensure a page or a burst-and-group of pages are sent to the right people via any number of inFORM's defined output queue targets, including email, fax, printers, archives, and more. inFORM's iDocs offers a number of popular formats for us to distribute our documents, including intelligent PDFs in color and even password-protected, Excel, HTML, ZIP, and more."
Casino Applications Automated by inFORM's iDocs Suite
When iDocs is installed along with associated automation options (email, capture, archive, laser print, or fax), casino clients are able to quickly automate many of the more popular casino applications, including (but limited to) the following:
Gaming
Customer Counter Checks
Cage Markers
Front Money Markers
Foreign Currency Exchange
Front Money Deposits and Withdrawals
Marker Transfer Requests
Marker Transfer Credit Slips (Confirm)
Marker Payment Receipts
Pit Credits
Pit Fills
Return Check Payment Receipts
Safekeeping Deposits
Safekeeping Withdrawals
Statements
Write-Off Payment Receipts
Front Money Markers
Pit Markers
Comps
Players Club
Comps
Receipts
Mystery Prizes
Redemption Vouchers
Redemption Voucher Points
Redemption Voucher Promos
Win/Loss Summaries
Slots
Jackpot Slips
Cancelled Credit Slips
Slot Fills
W2G Forms
Says another inForm Decisions casino customer, "We use iDocs to create and route dozens of different electronic forms throughout our establishment. The amount of time iDocs has saved us thus far over manual document processes we used in the past is easily many hundreds of hours."
Replacing Legacy Document Management Technology
Many of the older laser form solutions involved hardware devices, a PC-based "black box" of some sort, and/or a complex array of APIs that are complicated to use. inFORM has continued to enhance, develop, and improve its flagship iDocs suite of products to track with the latest and greatest features the IBM i platform and OS have to offer. There are no downloads to a secondary device or box that is slower, less secure, more expensive, and most costly to maintain and update.
It's an obvious benefit to work toward paperless workflows, but the benefit is even greater when the solution is fast, efficient, and easy to use!
Every one of the 30+ hotel casino customers that came to inFORM over the past 12 years was the result of a decision to move to a software-based forms management solution in order to support the automation of print output for its enterprise-wide ERP solutions.
According to Forster, "Gaming companies evaluate several options but find ours to be easiest to use. iDocs monitors and manages our output queues to capture spool files, work with our database and XML files, and merges easily with data mapped and designed forms. The intelligent, automated routing of documents with SmartRouting was an unexpected benefit of this whole process."
Per another longtime inFORM Decisions customer, "When we did the math, there were literally thousands of different targets and variables for how we needed our documents and reports delivered. We used the conditional logic in iDocs to automatically burst, sort, route, and deliver documents within our inordinate number of variables. inFORM's iDocs, along with their SmartRouter module, offered centralized document management, while easily designating precise document destinations for any casino form type or circumstance."
Electronic Forms: Easy Design. Easy Implementation. Easy Deployment.
For many of inFORM's clients in the gaming and hospitality industry, the deciding factor is often that iDocs includes an easy way to create electronic forms and then map the spool or database data to forms. inFORM's iDocs offers two unique and powerful ways to design forms: 1) Automatically convert a scanned image of a printed form into an editable, intelligent, and compressed form overlay. 2) Use any Windows graphic design program to design the forms—e.g., Word, Excel, PowerPoint, Adobe products…whatever. Because iDocs is built on an "open designer" model, a user can import forms from any Windows-based application into the iDocs design and mapping process. From there, business rules are defined and set up for automated processing.
With inFORM's unique iMap data mapping tool, it's very easy to move, adjust, and define spool or database data to a precise location on any form. iMap allows the user to print to its driver and import the form from any Windows-based graphical form designer.
Says Forster, "A state-of-the-art forms designer is included in iDocs, but honestly, we don't care if the user wants to keep using their own graphics programs for designing forms. Our goal is simply to provide the quickest and easiest method for customers to design their forms and report graphics with the look and the data they require."
Says Ken Kramer, VP of Development for inFORM Decisions, "Over and over again, we have seen how our technologies have greatly sped up the design and implementation of casino and hospitality document applications. Once our clients implement iDocs to two or three of their properties, they discover how easily and effectively iDocs can 'cookie-cutter' their document, report, and check applications to all of their properties. Many casinos utilize the same or very similar formats, making a wider deployment highly simplified."
inFORM Decisions Document Automation Solutions—A Sure Bet for Gaming and Hospitality Industries
Without document automation, the complexity is mind-boggling. To get an idea, simply multiply the numbers of forms, document formats, and delivery options by the number of locations within the average hotel or gaming organization. When document automation from inFORM is in place, what used to be a mountain of paper and a headache-provoking job for numerous people becomes a streamlined process that takes a fraction of the time (and paper) to manage.
More Information
To learn more about inFORM Decisions and the benefits of going paperless, visit www.informdecisions.com or phone 1.949.709.5838.
Note: Due to the strong legal and privacy constraints in the hospitality and gaming industries, inFORM Decisions cannot directly quote users, which is why there is no attribution for the quotes in this article. Because of this, we understand there might be some possible reader skepticism; however, we can provide individual customer references to prospects upon request.
See more at: http://www.mcpressonline.com/document-management/inform-decisions-wins-in-the-gaming-industry-with-document-automation-and-management-solutions.html#sthash.q5OzYdNn.dpuf
About the Author:
inFORM Decisions (www.informdecisions.com) specializes in document management, payment automation and modernization solutions for IBM i (iSeries). inFORM's acclaimed iDocs Suite make it easy to design, add intelligence, archive and/or intelligently distribute electronic documents, reports and checks to laser printers, fax, or email (in popular formats like PDF, Excel, RTF, HTML, TEXT and more). The company distributes the database modernization solution, Adsero Optima Foundation, to facilitate and automate the migration of all legacy (ISAM or DDS) databases to the latest DDL (SQL/SQE) implementation of DB2 on IBM i. To learn more, visit www.informdecisions.com or call 949.709.5838