inFORM Helps Save the Earth with Updates to i-Based Document Management
April 30, 2008
Today is Earth Day, and that means you're supposed to think about ways to save the environment from the world's most destructive force: man. One relatively painless method is eliminating the use of paper in favor of electronic documents, and to do that, you need an electronic document management software solution. One company developing native System i (i, i5/OS, OS/400) document management software, inFORM Decisions, recently updated its suite of products to in hopes of helping customers stay in the green.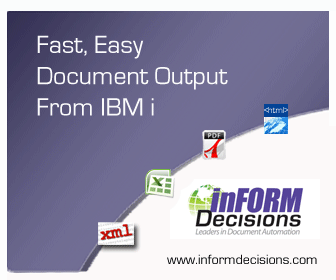 Based in the Southern California burg of Rancho Santa Margarita, inFORM Decisions is a small company that has been developing and maintaining a large suite of native document management solutions since 1995, when the world's most popular business server was still called the AS/400. Actually, the company sells two suites: Document Automation, which includes all the document management tools, and Banking Automation, which includes things like ACH transactions and positive pay.
inFORM Decision (or IFD as the company refers to itself) was at the recent COMMON conference in Nashville, Tennessee to announce the launch of new release of three products, including iDocs 4.03, iView 4.0, and iPDF 3.0. Taken together, the announcement marked the biggest change to the Document Automation suite in more than three years.
iDocs 4.03
With iDocs 4.03, IFD has added two important features that can make it easier to work with an electronic document management solution. The first is support for signature pads, such as those carried by UPS drivers. Once a signature is captured by an electronic signature pad out in the field, the new iSignature module automatically uploads it to the core iDocs engine, where the image of the signature is merged (by matching customer numbers or other identifiers) with the pertinent business document, such as an invoice.
The second enhancement, support for "dynamic" macros, gives iDocs 4.03 the capability to search through a spool file for a user defined condition, such as a certain customer number or a company name, and then insert various forms of content (graphics or text) at that specific location in the spool file.
This new feature will be beneficial to users of the new iSignature module, as dynamic macros will be needed to insert the image of the signature with the invoice. IFD gives other scenarios where dynamic macros will be useful, including: using the correct corporate logo image in the output when the spool file page includes output for different companies; including different standard terms that are matched to different document types; and including different forms content matched to different document types, different customer types, or accounts.
iView 4.0
IFD also updated iView, its document archive and retrieval system for the i-based Power System server (formerly System i). iView's job is to capture raw spool file output as it emerges from the i-based Power System server–or to capture electronic forms that have already been pre-processed by the iDocs engine. Once it's been captured, iView converts the documents into the PDF format, loads them into an IFS directory, and makes them searchable and accessible through your standard Web browser.
With iView 4.0, IFD has added a number of enhancements that should make the product more usable for existing users, and more appealing to future customers.
For starters, the company has added support for "virtual folders" with this release. Virtual folders allows a systems administrator to create the appearance of a directory structure in the iView screens seen by users, but without having to create the actual directory structure underneath. For example, a virtual folder could be created for dates that allow a user to search and sort a listing of customer invoices by date. Virtual folders can be changed at any time by the administrator, and also permit the administrator to restrict users' abilities to view documents.
Virtual folders give iView users more flexibility compared to the typical archive, says Davis Yokana, IFD's iView product manager. "Most documents archive-retrieval solutions for the IBM System i offer inflexible, fat clients," Yokana stated. "Virtual folders with a Web browser interface in the new iView allow easier software deployment and document access. Users can log onto any Web browser and view, retrieve, print or send a stored document, and dynamically reorganize folders for better documents organization."
Another handy addition in iView 4.0 is the capability to store documents on a network directory, such as a separate Windows or Linux server. This allows iView users to utilize less expensive (although also less reliable) servers to store their documents. Similarly, the new version gives users the capability to export iView documents and search indices to external FTP servers. This provides another way to move documents off the System i (i-based Power Systems server) and onto cheaper hardware.
iPDF 3.0
IFD also updated iPDF, its spool-file-to-PDF conversion engine. With iPDF 3.0, the company added something called the OutQ Monitor that watches for spool file output coming from the System i (currently i-based Power System server, formerly iSeries, i5, and AS/400), automatically applies the correct PDF conversion routine, and then uploads it to the specific directory (which could be a Linux or Windows file server). In this way, users have near real-time access to documents emerging from their i (formerly i5/OS, OS/400) applications, but instead of reading text-based reports, they get the documents as PDF documents from the comfort a Windows or Linux server.
iPDF 3.0 also sports enhancements to its user interface that makes it easier to select the files to convert. Instead of reading through a list of documents and then entering the API command to convert files to PDFs, users now can view a list of spool files filtered by OutQ or by user, and then press a button; iPDF now applies the necessary commands under the covers.
All new products–iDocs 4.03, iView 4.0, and iPDF 3.0–became available April 1. iView 4.0 costs less than $10,000, while iPDF is priced between $1,500 and $3,000 depending on software tier. For more information, visit www.informdecisions.com.
Going Green
IFD is taking an active role in helping to preserve the environment, not only through its software (which helps to eliminate paper-based documents in favor of digital documents that live on computers), but also through the choices the company makes.
For example, IFD president Dan Forster has pledged to stop using plastic water bottles at work. Instead, he is hydrating at the office water cooler, and encouraging employees to do the same.
For a full list of IFD's commitments to the environment, check out the company's Green Page.
Source: http://www.itjungle.com/fhs/fhs042208-story03.html
More Information
To learn more about inFORM Decisions and the benefits of going paperless, visit www.informdecisions.com or phone 1.949.709.5838.
Note: Due to the strong legal and privacy constraints in the hospitality and gaming industries, inFORM Decisions cannot directly quote users, which is why there is no attribution for the quotes in this article. Because of this, we understand there might be some possible reader skepticism; however, we can provide individual customer references to prospects upon request.
About the Author:
inFORM Decisions (www.informdecisions.com) specializes in document management, payment automation and modernization solutions for IBM i (iSeries). inFORM's acclaimed iDocs Suite make it easy to design, add intelligence, archive and/or intelligently distribute electronic documents, reports and checks to laser printers, fax, or email (in popular formats like PDF, Excel, RTF, HTML, TEXT and more). The company distributes the database modernization solution, Adsero Optima Foundation, to facilitate and automate the migration of all legacy (ISAM or DDS) databases to the latest DDL (SQL/SQE) implementation of DB2 on IBM i. To learn more, visit www.informdecisions.com or call 949.709.5838