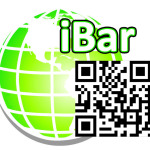 iBar
IBM i Scalable Barcode Generation
Barcodes are pervasive in our world. From daily documents to the QR code we scanned with our phone, businesses are using barcodes on everything. Besides being printed on documents for tracking and embedding information, with labels, they can be placed on just about anything. Barcodes can be leveraged for all types of business purposes.
A valuable and viable choice for businesses looking to improve efficiency and reduce overhead, barcodes are both cost-effective and reliable. Barcode technology is constantly improving, and companies are looking to embed more and more data within the symbol.
iBar now offers IBM i native users the ability to scale barcodes, and to output to industry standard HP PCL cut sheet and continuous form label printers iBar is now capable of producing industries' most popular bar code symboligies, including QR, IMb, 3of9, EAN, Datamatrix and more.
For current, iBar and iDocs users, its important to note that you will no longer be confined to working with fixed pitch HP fonts. You can now size the font to accommodate your print requirements, as now the user simply selects a barcode symbology, and enters the size they need. In addition, barcodes can be embedded into *SCS spool files or integrated with API commands.
Benefits and Features of iBar:
Create "intelligent" spool files with embedded barcodes
Embed barcodes for print or digital file creation (PDF)
Include barcodes in printed forms using iDocs
Easily modify barcode position, height and width
Broad barcode type support: CODABAR, DATAMATRIX, EAN13, EAN8, IMb, INT2OF5, ITF14, PDF417, QR, UPCA, UPCE, 128, 3of9
Runs natively on the IBM iSeries
Want a demo or more information?  Contact us today.