Simple to Use & Easy to Manage:
The incredibly powerful IBM i PDF Conversion Engine by inFORM Decisions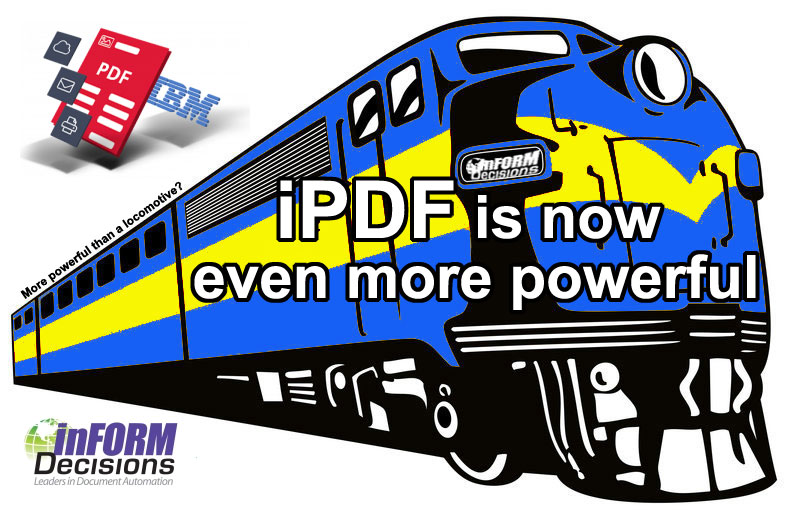 inFORM Decisions' IBM i and Power Systems Native iPDF Engine converts spool files and PCL files into PDF (Portable Document Format) files. This powerful conversion engine promotes Automation, Distribution, and Functionality while keeping the user experience simple and friendly to use.
1. Rather than the manual use of Operations Navigator or other laborious processes, iPDF will create PDF files from a spool file without any human intervention.
A fully automated solution that always runs when you need it, even outside of working hours, iPDF includes an automatic output queue processing program that will monitor any designate output queue. When any spooled file appears in this output queue it will be automatically converted to a PDF and placed in any desired destination. Usage is even easier utilizing the convenient dashboard monitor to create, start, end and manage all PDF jobs from a single screen. Jobs can also be initiated real-time and submitted using embedded RPG or CL commands.
2. IBM native conversion eliminates the need to download to a PC (or secondary server) to process PDF files, thus improving security and speed of PDF document conversion.
Native conversion leverages the power of your IBM i (AS/400) investment to convert *SCS and *USERASCII spool files to PDF or TIFF format with full-color overlays small enough to be emailed or stored – delivering more security and faster processing of documents and reports.
3. Much, much more than a simple conversion tool, iPDF enables report distribution.
iPDF facilitates report distribution, PDF document archival and retrieval, bursting, sorting and outputting PDF reports and custom business forms in the open PDF standard. Once the PDFs are created they can be easily viewed using the free Acrobat Reader wherever they are sent.
4. Benefit from cloud repository services.
The PDF attachment can be dynamically assigned descriptive names and deposited on the target IFS, any shared drive, remote PC, Microsoft OneDrive or SharePoint. If you supply user and/or owner passwords scraped from the originating spool file iPDF can password encrypt the generated PDF documents. This would enable viewing only by the intended recipient. Think deposit tickets.
5. Expand your IBM i applications with modern functions and save money by digitally distributing reports.
Some clients have reduced the paper they print by 90%, saving them thousands each month. iPDF paperless report conversion software will copy spool files to PDF or TIFF easily, dynamically naming, emailing and archiving without programming or additional hardware.
6. Reduce users' dependence on your IT staff in finding reports or converting them into an electronic format.
Automated report distribution and parsing also reduce the number of reports that your IT staff needs to write. Employees save countless hours because they no longer have to file, search, print and mail paper reports.
For a quick product demonstration of how to use the iPDF Monitor to convert your spool files to PDF or TIFF use the link below.
Call (800) 858-5544 / (949) 709-5838 or visit us at www.informdecisions.com for more information about iPDF or our acclaimed iDocs suite of IBM i products.