Digital Transformation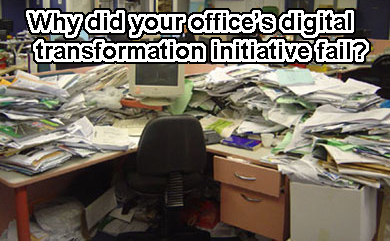 Digital transformation is essential to remaining competitive in today's marketplace.
From improving internal processes to providing more efficient customer experiences, digital change is crucial to remaining relevant. However, resistance to change in the digital era can be detrimental to both morale and your business.
What does company culture have to do with adopting digital change? Company culture is closely tied to an organization's beliefs and values. Frequently, these values have been established for many years and have played a role in the business's success. Thus, these beliefs are deeply woven into the fabric of the organization. The culture has been long established, which can create an environment resistant to change. Company veterans might think: Our way has worked for us thus far—why change it?
So what can you do to encourage cultural change in your company and foster digital transformation?
Here are a few ideas:
Start at the top. The culture of the leadership in your company determines your company's culture as a whole. Leaders must take ownership of digital transformation within their companies, demonstrating its importance to the rest of the organization. Their attitude will undoubtedly trickle down into the rest of the organization.
Utilize your employees' desire for positive changes that allow them to perform their job better and reach goals faster. Identify the key players in your company who can use their influence to help you facilitate user adoption of new technologies and strategies.
Start small. It's a massive cultural change when a company decides to implement changes. Don't go in with the expectation of utilizing the solution in every department from the start. Narrow in on one or two departments where there is an immediate need for a capture solution and start there. Once the solution is well understood in that department and the staff is excited about the results, consider branching out to other departments. This creates favorable conditions for the staff to get accustomed to the entire process, and can be a good example for subsequent projects.
Continue the culture of continuous change. Technology is rapidly improving and will constantly change the way we perform our jobs. It's important for businesses to take advantage of this forward momentum, instead of fearing it and resisting it at every turn. If you can transform your company culture into one that readily adapts to change, you will be one very significant step ahead of the competition.
Finding a solid partner is key for your project to succeed and support cultural change. The provider selected must be able to satisfy your business issues as well as meeting your requirements, such as the technology required, the payment terms and discounts, etc. Insure that you ask tough questions before purchasing that clarify the providers' capacities as well as their commercial terms.
Company culture will not change instantly.
But over time, small, intentional changes can help your company culture evolve and progress toward digital maturity.
Need help?
Call (800) 858-5544 / (949) 709-5838 or visit us at informdecisions.com for more information about our acclaimed iDocs suite and iCapture products. We can assist you with finding the right products and providing the information necessary to address the cultural challenges, achieve digital maturity and a successful digital transformation.