There's a way better way to do invoice-to-pay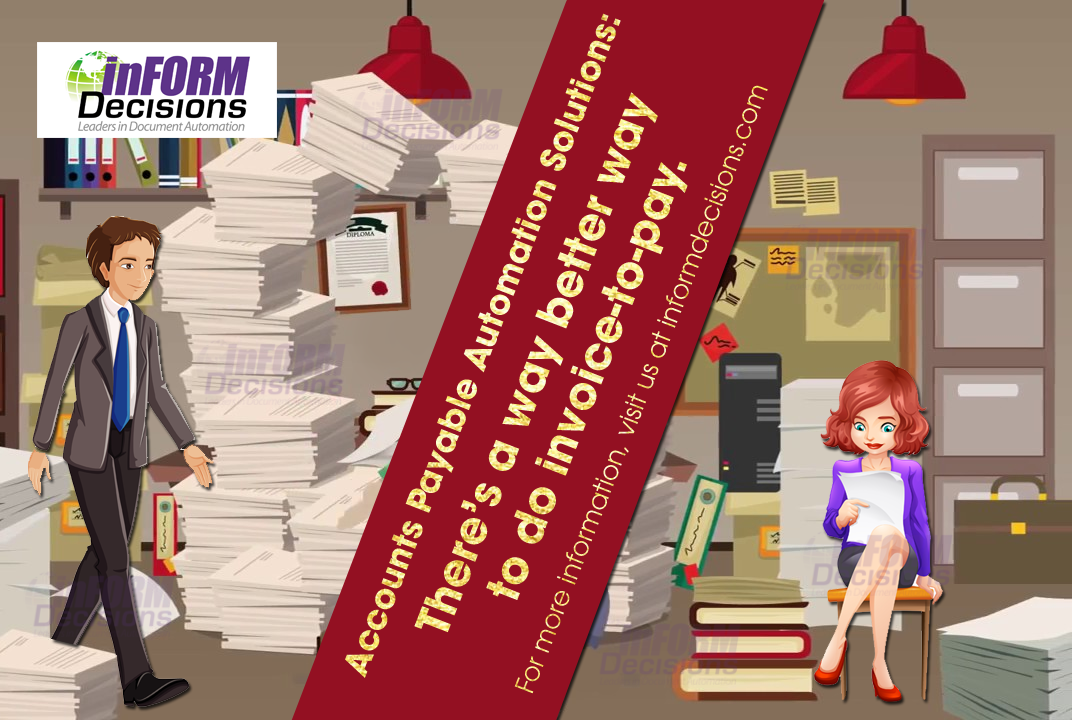 The efficiency of your AP team's invoice processing method can have an enormous impact on operations across your organization, ultimately affecting your bottom line. Invoices are just plain painful, and companies usually tackle the AP Invoice Processing problem with more staff. If ignored, delays and inaccuracies in your AP process will create inefficiencies that ripple through your business, generating unnecessary cost, frustrating other departments, and straining vendor relationships. There's potential for wasting time and creating errors throughout the AP process, including:
Late or lost invoices
Incorrect or inaccurately entered data
Invoices without required purchase order numbers
Difficulties retrieving invoice data or yearend 1099 reporting
One or more of these factors can take several days for multiple employees to resolve, and could hinder other employees, departments, or even end customers. No company wants to be known for late payments, and no company needs the notoriety of negatively impacting its vendors. The importance of AP process efficiency cannot be understated: it's a business-critical matter that you should monitor and address on a routine basis.
To determine what improvements need to be made to your AP processes, first and foremost, look at your invoice data capture method. Examine steps that require paper or manual data processing, as they're error-prone and take the most time and resources to complete. Chances are there's at least some manual work involved as 58% of invoices are still being entered manually into AP systems in a typical enterprise.
There are numerous qualitative factors that you should be aware of as you evaluate your AP processes. While you can't measure them directly, all have a quantitative influence on your department's performance and your business results. Understanding these elements and their effects will reinforce your proposals for improvements to your bottom line.
For example, map out your invoice processing operations to gauge their complexity. You can start by listing the fundamental steps of any AP process, then break each individual step down into its components, such as the step's resource, manual process or software used to facilitate or complete the step, and the time it takes to complete each step.
The fundamental steps of the AP process are:
Invoice receipt and sorting
Input
Data extraction
PO matching
Verification of vendor details
Invoice approval
Invoice payment
Auditing and 1099 reporting
As you're going through your AP team's workflow, you'll need to find the answer to several questions, such as:
Do you receive both electronic and paper invoices?
What forms of electronic invoice are you receiving (e.g. doc, pdf, XLS)?
How do the invoices get filed or inputted?
Are you using more than one invoice delivery method (e.g. mail, email, FAX)?
Does the same flow apply to all invoice formats, or do you have different flows according to format?
Do you need to match POs to all invoices, or are you also processing invoices that don't require POs?
Are your POs standardized across your business, or do different departments have their own PO systems?
Are all invoices centralized or stored in various locations throughout your organization's network?
This is just a handful of the queries that will arise as you study your AP team's invoice processing.
Once you've reviewed your AP processes and identified its inefficiencies, you'll be able to clearly see opportunities for improvement. You may discover that your invoice data capture method is causing inefficiencies. One of the most critical steps in invoice processing is data extraction. A touchless solution that teaches itself how to capture information from multiple document formats accurately can boost AP efficiency considerably. There are capture product that scan and extract invoice information into searchable invoice PDFs like iCapture from inFORM Decisions routing captured invoices to 60+ systems. You can also streamline your AP operations by automatically printing checks or emailing digital documents to recipients on the IBM i using iDocs. You can also utilize your valuable electronic data and iForms to facilitate year ending reporting and 1099 forms electronically. Kickoff AP invoice workflow using our iWorkflow solution to map the steps from the point at which goods are received to the point at which invoices are paid.
Unleash your team's efficiency with iDocs suite of accounts payable solutions and say goodbye to filing cabinets and lost invoices. Accounts payable process automation frees your team from the manual AP tasks that are slowing down your business, all while giving you greater control over your spend management with the click of a button. An automated Accounts Payable solution can help an organization reduce costs, keep more of their hard-earned profits and keep employees happy and productive.
Ready to take the leap? inFORM Decisions has a series of advanced AP and Invoice Solutions that are affordable for any size business, and any size AP department. Contact us today for your ticket to a streamlined paperless invoice process.