Are you still processing invoices manually?
It's 2020. Are you still processing invoices manually?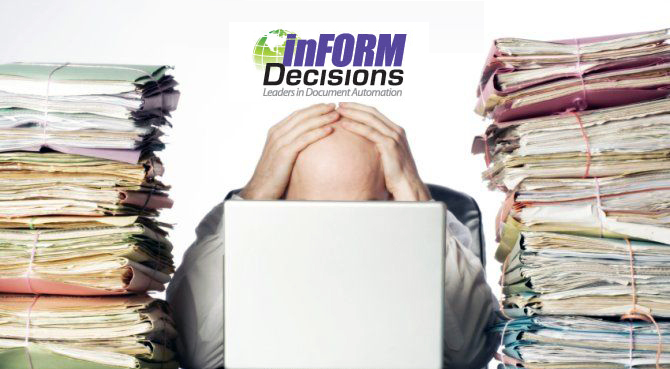 Invoices are just plain painful, and companies usually tackle the AP Invoice Processing problem with additional staff. If you are suffering from any of the three accounting headaches below, you have the opportunity to recoup thousands of hours of productivity in your accounting department.
1. Data Entry
Whether from printed invoices you receive in the mail or email attachments, AP clerks are often mired in the manual, repetitive entry of PO numbers, vendor info, invoice amounts, and line item detail. Did you know that all of the above can be automatically extracted from invoices, reducing data entry to near zero?
We say "near zero" because there are times when the data extraction software component of AP automation has trouble identifying a character. In these cases, the system will alert you, so it can be manually reviewed and entered. This is referred to as "exception processing," which allows for quality control and greatly reduces the risk of error due to illegible print.
AP automation can also verify PO numbers, vendor info, invoice amounts, and line item detail automatically by running database look-ups in your accounting software or ERP system. If everything matches, the invoice can be processed without human intervention, referred to as "touch less processing." If something doesn't match, it gets kicked over to someone for review to correct any errors and/or contact the vendor if there's a problem with the invoice.
AP automation can also automate the indexing process. Simply set up the naming convention, including what needs to be automatically populated from the document into the naming convention, and AP automation will automatically name each file so it can be stored electronically and instantly found later.
2. Manual Approvals
How do you get invoice approval today? From a plethora of emails? Perhaps from having to walk a document around the building for signatures? Do you have to mail it to managers in the field?
With AP automation, approvals are automatically routed and obtained electronically. If signatures are required, you still don't need paper – you can obtain e-signatures in our system. Our software allows you to securely access invoices from multiple locations, further reducing the time needed to access and approve invoices. AP automation also records each action as part of an audit trail.
3. Printing & Filing
Do your employees print out invoices and back then up? Are older, physical documents taking up valuable space in file cabinets or somewhere offsite? AP automation completely eliminates the need for all of the above.
Once captured and processed, they are stored electronically in document management software, which serves as an electronic filing cabinet. Employees can then search and retrieve them based on indexed values or invoice content if you do full-text extraction.
Ready to take the leap?
InFORM Decisions has a series of advanced AP and Invoice Solutions that are affordable for any size business, and any size AP department. If you are looking to OCR and digitize your invoices, and create an invoice scanning/AP automation solution, you have landed at the right place. Our document capture software provides a layered approach to the invoice problem, helping you improve efficiency, making your invoices searchable through OCR and make your staff more productive. Competitively priced, truly scalable and uniquely versatile, we offer the ideal document capture solution. A single capture platform designed to meet all the needs of an organization, including document scanning and import, forms processing, data capture, OCR/ICR data extraction and the ability to migrate the information into a document repository.
Our comprehensive suite of AP automation tools can eliminate manual data entry, manual approvals and printing and filing with advanced document capture capability of PSIcapture, as well as the workflow automation and document management capability of iWorkflow or K2 business applications.
The best part: send us a sampling of your invoices, and we'll show you how it works from soup to nuts. You'll be amazed by how quickly our AP automation technology will process your invoices. Contact us today for your ticket to a streamlined paperless invoice process.
Call (800) 858-5544 / (949) 709-5838 or visit us at www.informdecisions.com for more information about our AP Automation solutions.
Tags: AP Automation, icapture, iWorkflow, k2 workflow, psicapture, workflow