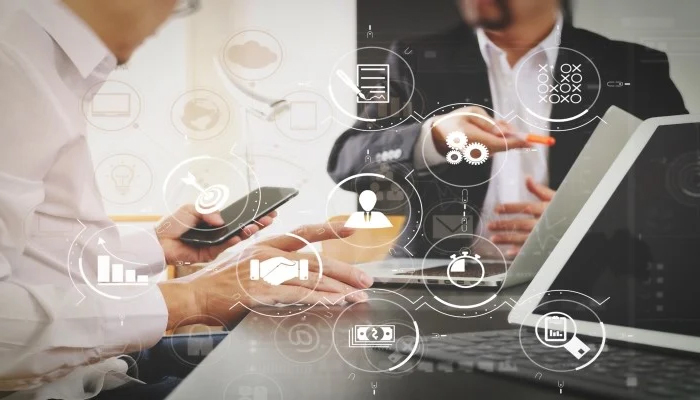 Workflow is a generic term for a process or for the movement of information or material from one activity to another. So, what does that actually mean? Consider the inbox and outbox on your desk. These are true signs of a paper-based, inefficient business process. Imagine an office where the flow of work is all digital, and at any moment you can see the status of a work item, and who has it for tasking. Workflow has the ability to take any business process (including emails), and create a digital copy. Want to have an approvals inbox for all your invoices? No problem. Need to have contracts flow through your organization for a review process? With workflow, it's a snap.
Simply put, workflow software provides organizations with unique technology that allows the creation of new working environments that will vastly improve the speed and efficiency of their operations. Typically, a workflow software will be used to define and manage a company's processes and uses integrations with common day-to-day applications to execute them accordingly. Changing or altering a process becomes a simple point and click operation..
Many companies that have used workflow software successfully also claim that it has assisted them in improving productivity, increasing visibility and evenly distributes accountability. The workflow software solutions were first introduced to the tech world way back in the 1990's and have since been gaining in popularity each year.
Since then, workflow software is required to comply with Business Process Management (BPM)'s integrated collection of critical software technologies. BPM refers to aligning processes with an organization's strategic goals, designing and implementing process architectures, establishing process measurement systems that align with organizational goals, and educating and organizing managers so that they will manage processes effectively. BPM can also refer to various automation efforts, including workflow systems, XML Business Process languages and packaged ERP systems. The versatility of these software solutions is preferred as it enables companies to collaboratively work on designs, development or the execution of certain cycles.
Workflow automation software has vastly improved and evolved over the past couple of decades as more software companies are realizing the benefits of developing workflow technologies. It's important to keep in mind that the majority of the most reputable workflow software solutions allow you to take the software for a "test drive" before making a costly commitment.
Especially now, with businesses offices closed and everyone working from home, workflow solutions become more and more critical to survival. So, go ahead and find the workflow software solution that best fits the technology needs of your business! Looking for an advanced Business Process Management and Workflow tool? Inform Decisions offers iWorkflow, a native IBM i workflow system as well as K2 Workflow, Forms, Data and Reports, Business Process Apps outside the IBM world.
Call our experts today. (800) 858-5544 / (949) 709-5838 or visit us at
informdecisions.com for more information about our paperless solutions and document automation.