Printer Supplies
Printer supplies from inFORM Decisions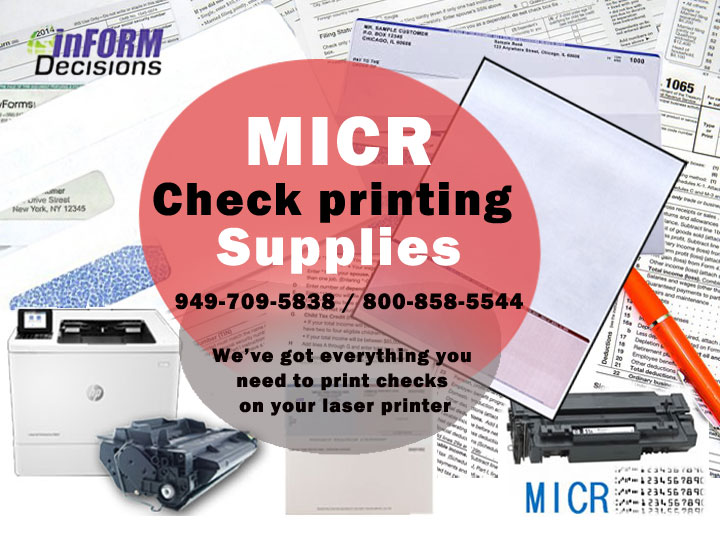 Why buy your printer supplies from inFORM Decisions?
A new approach to handling your office's document and printing supplies can start right now with you and our specialized supplies team. Why deal with on-line or big box suppliers when you can have personal one-on-one expert service and save money in the process? We'll help you with your company's printer supplies by simplifying you're ordering, saving you money and time while helping save the environment.
Better value as compared to Deluxe® and Staples®
Typically our customers save money compared to orders places with Deluxe or Staples. Try us and compare for yourself.
Checks and forms for all software packages
iDocs/iChecks, Intuit, Quick Books, Sage, Microsoft Great Plains and many more.
We do custom form ordering
In addition to stocked items, we will locate and provide for blank Security Check Stock as well as Preprinted Security Check Stock for all software packages.
One-on-One personal service
Deal with a single contact, one representative and one company for all your needs. Just call Erin!
We do consulting
We can provide assistance in figuring out the right products for your needs. We work with multiple supplies rather than a single source. We can typically provide forms when no one else can.
Help available
Get help right away from one accountable person who can provide troubleshooting assistance.
Experience
Beside paper and toner expertise, Erin has more than 20 years' experience working with HP, Toshiba and other printers and ERP software.
Our checks meet Check21 Form Compliance
The security paper stock used to print our checks is an important element in the overall security program to protect the printing of checks. Our security checks have multiple security features that help prevent check fraud.
SEL Ink/VOID feature
Micro Printing
Fingerprint Hologram
Heat Sensitive Ink
Fluorescent Fibers
Compatible envelopes are available
Get your checks and envelopes from a single source assuring compatibility. Security envelopes are available in several sizes in either double window, single window, and preprinted styles
M.I.C.R.
We provide M.I.C.R. (Magnetic Ink Character Recognition) toner for both U.S. and Canadian customers. MICR toner is used to print the E-13B MICR characters on the bottom 5/8 inch of a check. Formulated specifically for each individual model of Laser printer, our Toner and Ink is superior, reliable, and ensures unparalleled adhesion and image quality. When it comes to check printing, unreliable checks mean lost revenue and bank fees. As an HP OEM Partner, our toner will never void your warranty and you can rest assured each print will be as strong as the last.
Insure you have the Forms and Envelopes you need to file your taxes
We offer tax forms in just about every paper median for all your tax season preparation needs. W2, 1099, ACA, and many more are available as blank laser forms, pressure seal forms, continues forms, and more.
Please call (800) 858-5544 or (949) 709-5838 Ext.123 to order your printer supplies including blank forms, check forms, tax forms, toner and envelopes or email Erin at erin@informdecisions.com.
Tags: electronic checks, envelopes, forms, MICR, Tax forms, toner