Replace discontinued AFP utilities on your IBMi
IBM no longer Supports Advanced Function Printing Utilities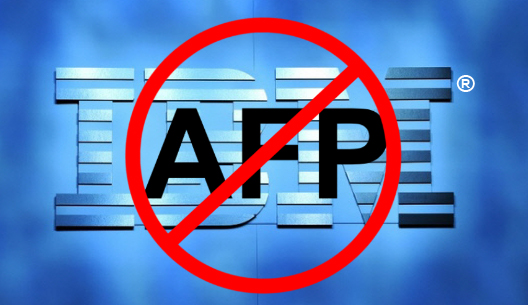 IBM Advanced Function Printing Utilities are not supported on IBM i V7R3 OS. While AFP data stream and protocol might still function, the AFP Utilities and the InfoPrint tool for designing pages are not supported in V7R3 and beyond. This would indicate that you can continue to print existing applications, but that you can not create a new form overlay or modify an existing one.
AFP is an outdated technology and was always painful to work with. IBM sold off its printing division which subsequently removed support for AFP utilities along with the Infoprint Designer and is recommending 3rd party alternatives such as the acclaimed iDocs Forms Suite from inFORM Decisions. iDocs provides easy-to-use forms design and spool file data mapper with menus to set up business rules for manual or automatic processing and intelligent distribution of merged, formatted reports, forms and security MICR checks. Print in color with graphics and bar codes.
The laser form printing module provides menus and business rules for defining dynamic, complex document printing operations on the IBM i. This solution is usable with all iSeries, System i and Power Server accounting/ERP solutions including JD Edwards, Mapics, Lawson, HTE, SAP, ORACLE, Computer Guidance, Optimum, Metalware, Pansophic, DCMS, PRMS, Infinium …any software application that generates a spool or XML file output.
With iDocs, you can replace AFP while modernizing your documents and improving your workflow processes; distributing documents as PDF via email and fax, optionally archiving and importing them into a paperless Electronic Content Management system.
inFORM Decisions has been a Document Automation provider specializing in state of the art Document Automation solutions for the IBM i – iSeries – AS/400 arena since 1994. We believe that the IBM i/Power Systems will be relevant for a long time offering the stability and security that you've come to expect from IBM. inFORM Decisions is committed to the IBMi platform forever!
Call (800) 858-5544 / (949) 709-5838 or visit us at www.informdecisions.com for more information about our acclaimed iDocs suite of IBM i products.
Keywords: ipds afp printing solutions, advanced function printing data stream, ibm advanced function printing utilities, infoprint designer for iseries, AFP alternatives, AFP to SCS, AFP Document Creation, AFP Printing, AFP PDF Creation, Printing AFP PDF Documents, Printing AFP with bar codes and logos, AFP Document Management, Easily Design and Map Documents compared to AFPU, Alternative to using IPDS Printers
Tags: advanced function printing data stream, ibm advanced function printing utilities, infoprint designer for iseries, ipds afp printing solutions